Drink & Wine Promotions Annual BBQ with Headphones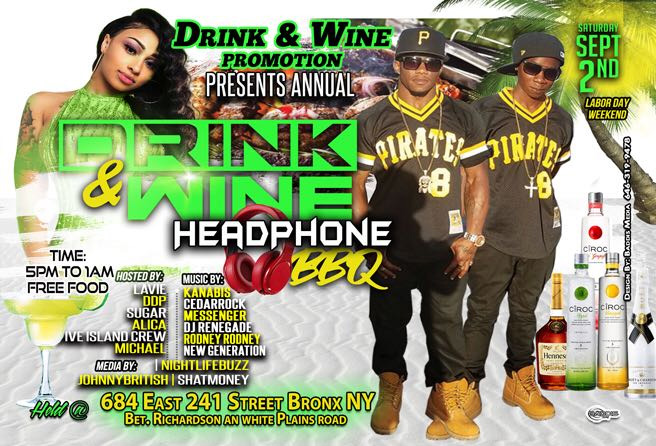 #LaborDayWeekend SATURDAY SEPTEMBER 2nd BYRON AKA @BADDABITCHANU presents DRINK & WINE #BBQ Silent #HeadPhone Party via  @Oneil_fromcountry

AT 684 EAST  241st Bronx, NY

Music By: Kanibus @CedaRockSound @NewaGenerationMixx @kevinlife_ng @DjRodneyRodney @Dj_JohnDo33 @LyveMessenger @LinksMessenger

?? By: @JohnnyBritsh @NiteLifeBuzz @ShatMoneyNyc

PEOPLE  TELL A FRIEND TO TELL FRIEND AN U  ALL COME  OUT AN HAVE SOME REAL FUN AT DRINK & WINE

IT'S JUST NOT A BBQ IT'S A DRINK & WINE SPECIAL ALL NIGHT AND U GOT TO BE THERE TO SEE WAT IS THE  DRINK & WINE SPECIAL
PEOPLE GET NICE UNTILL THEM HEAD NAH GOOD AGAIN.
Event Properties
| | |
| --- | --- |
| Event Date | 09-02-2017 7:00 pm |
| Event End Date | 09-03-2017 1:00 am |
| Capacity | Unlimited |
| Registered | 0 |
| Location | Drink & Wine HQ (NY) |